Internet Explorer is not compatible with the payment feature on this site.
To optimize your experience on our website, please use Chrome, Firefox, or Safari.
XFRS-308
-
High-Touch Animation: Drawing, Design & Story
1066331
Delivery Options
Online-Synchronous
Course Description

Designed for experienced artists interested in professions and college programs in animation, High-Touch Animation gives students the opportunity to work one-on-one with CalArts faculty to improve foundational skills, develop an understanding of their creative goals, and find a pathway to advance artistically and professionally. Modeled in the spirit of our very popular on-campus programs, High-Touch Animation is designed to deliver the same high-quality, interpersonal experience without traveling to campus.
During this 6-week online program, students earn 4 CalArts credits studying Drawing, Design, and Story under the guidance of faculty who are seasoned professionals. Through workshops, projects, and regular discussion, students advance foundational skills while enriching their portfolio and receiving creative mentorship in a supportive and constructive learning environment.
In workshops, faculty will observe students at work and have private discussions with them during the session; projects will be completed outside of class and submitted to our virtual classroom for live critique. While there is a great deal of independent work allowing for schedule flexibility, students are expected to attend classes that take place in real-time (Pacific).
In the last week of the program—to synthesize six weeks of skill building and personal mentorship—each student will meet with the teaching team for a final mentor session. This is an amazing opportunity to prepare and present your work, and gain the insight and guidance needed to achieve your animation goals.
Here is an idea of what a typical week will look like: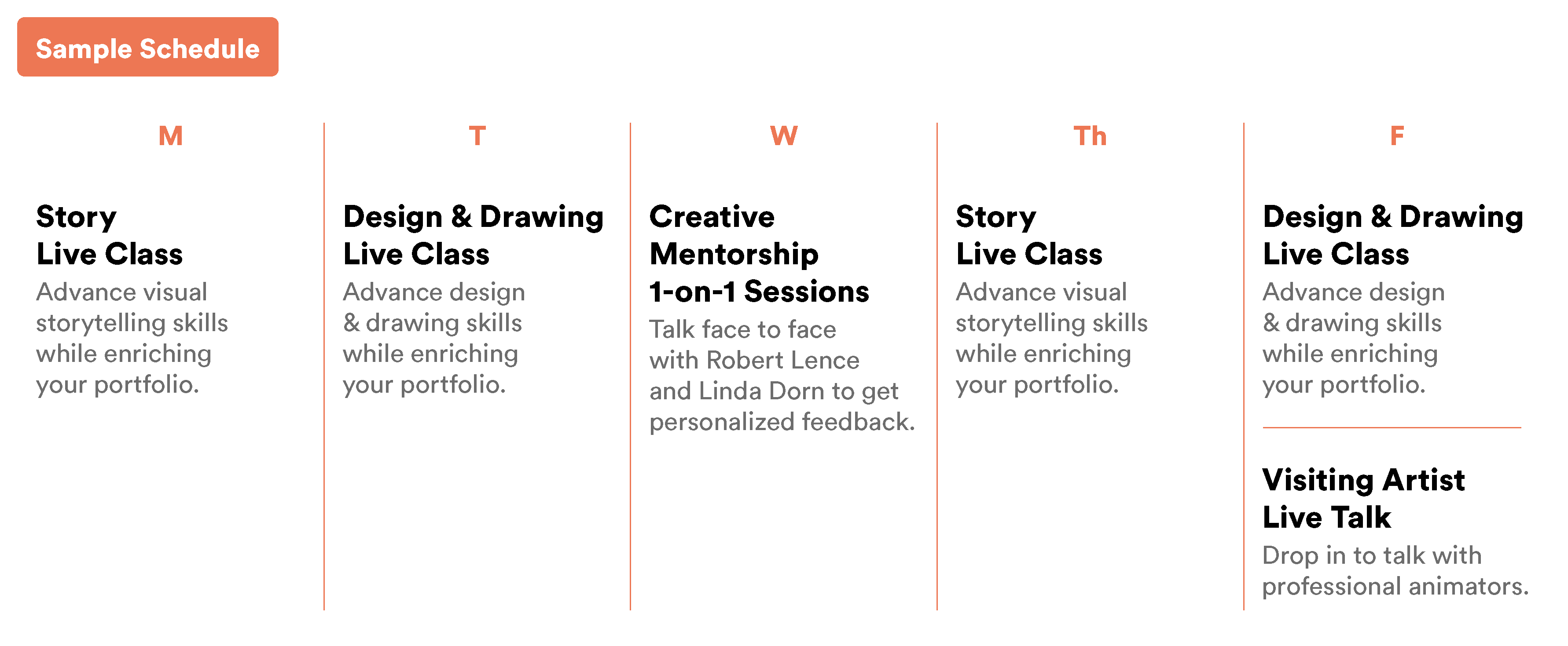 Materials
In order to fully participate and be successful in the class, you will need to have access to specific materials. If you already have any of the general supplies listed, you may use what you have. Links are provided for specific required items. You must purchase the exact item listed, but are welcome to purchase it from your seller of choice.
For the full materials list, click here. To hear Linda Dorn—CalArts faculty and drawing and design instructor—discuss the importance of materials in your practice, click here.
Application Instructions
Enrollment in High-Touch Animation is based on submission of the online application form and the review of:
A 1-2 minute video statement addressing the following:

What film has most inspired you to want to be an animator?
What artist is your animation role model?
What do you hope to gain from being in this program?

5 digital images of original artwork, consisting of:

3 life drawings of people or animals (not from photographs)
1 self-portrait (from looking in a mirror; not from a photograph)
1 character design
Applications must be accompanied by a $25 fee.
Program Prerequisites
Open to artists aged 17 and up who will have completed high school.
Enroll Now - Select a section to enroll in