Internet Explorer is not compatible with the payment feature on this site.
To optimize your experience on our website, please use Chrome, Firefox, or Safari.
XFRS-905
-
Animation Intensive
1066324
Delivery Options
Online-Asynchronous
Course Description

CalArts Extended Studies' Animation Intensive gives artists around the world an opportunity to come together and develop foundational skills without having to travel. During this six-week program, students study drawing and design for film and access workshops & lectures designed to broaden their understanding of animation as a multi-faceted art form. The program will include topics such as story development, animation history, character design, world building, and drawing presented by professional educators and animation artists. Course content is developed by CalArts faculty from our esteemed Experimental and Character Animation Programs, giving students a great opportunity to connect with members of our community and receive mentorship.
Course Outline
Designed for emerging artists interested in professions and college programs in animation, this course will give a boost to high schoolers exploring creative options, young adults transitioning into college, and adult artists aiming to jump-start their artistic practice. Students will be given assignments to complete independently and post to the virtual classroom. Faculty will present a video critique of everyone's work for each assignment, giving students the added benefit of viewing and learning from a variety of interpretations of the same assignment. Students will support one another and share feedback in a constructive learning environment, giving them the opportunity to make friends, connect with other artists in the program, and develop a creative peer group.
In the last week of the program, to ensure students have the opportunity to showcase their work, receive individual mentorship, and have access to college admissions advice, there will be a virtual group show, scheduled one-on-one meetings with instructors, and the option to participate in a session hosted by the CalArts Animation Admissions Counselor. Students will leave this program with the confidence and knowledge to achieve their creative goals while having generated new work suitable for college application portfolios.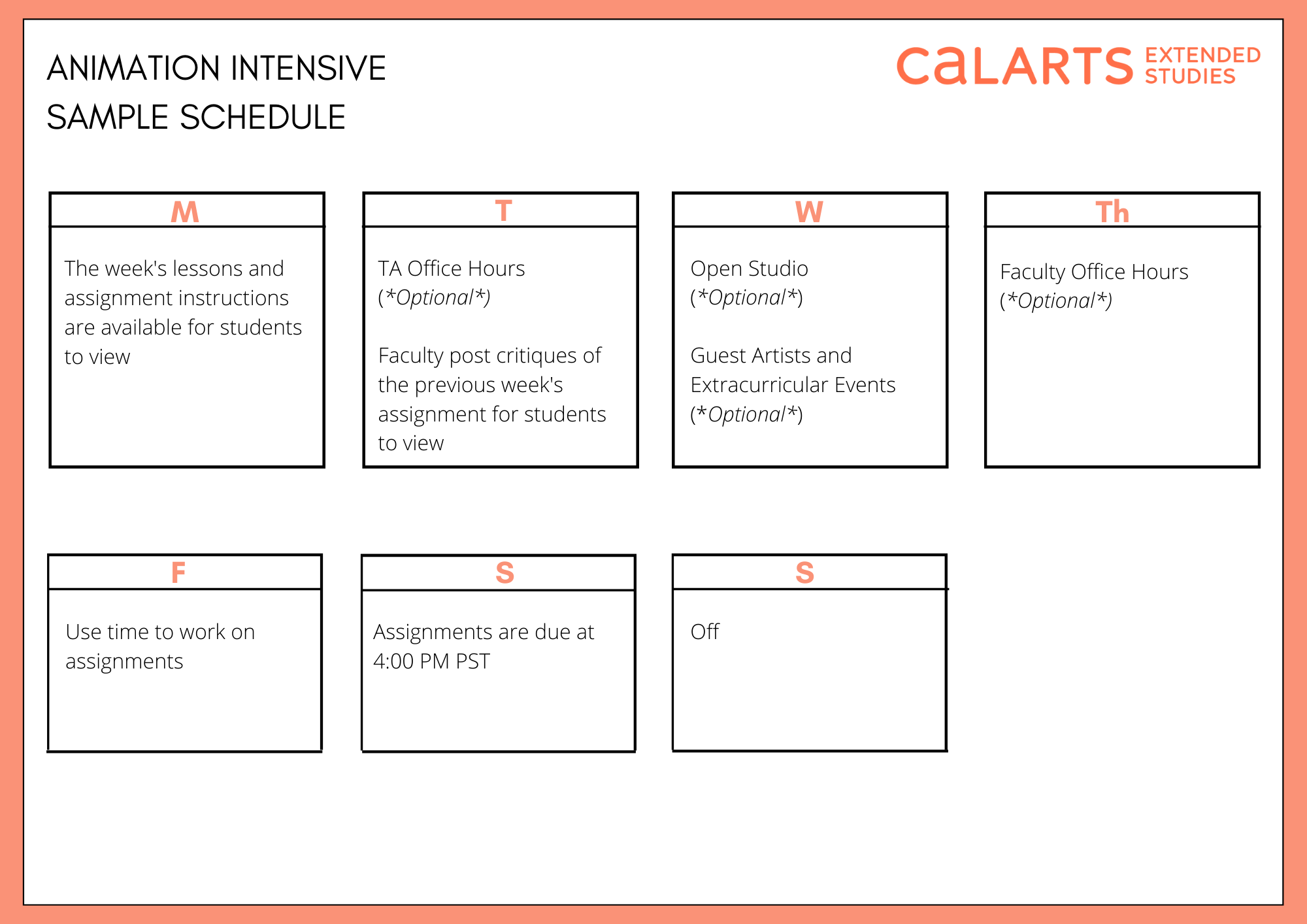 Application Instructions
Enrollment in the this intensive is based on the instructors' review of:
Five examples of your work, which must include:

One life drawing of a plant
Two life drawings of whatever you wish to draw
Two other work samples of your choice
Life drawing work samples should be drawn from real life, not a photograph or mirror. For more information on what we are looking for, click here.
Applications must be accompanied by a $10 fee.
Prerequisites
Enrollment is open to both beginning and more advanced artists ages 14+. Basic drawing skills and a willingness to be challenged are essential.
Enroll Now - Select a section to enroll in